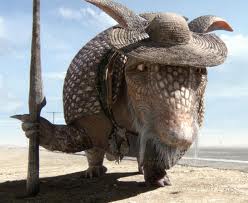 Roadkill is a trippy sort of wise hermit-like Armadillo. He is one of those old souls who pack profound meaning into very little words. Roadkill's words help to sort of guide Rango as he makes the journey to his own true self.
Information of Roadkill
Date of Birth: April 2 1921.
Origin: Hermosillo, Sonora, Mexico.
Complete Name: Roadkill Salazar Garcia.
Sex: Male.
Race: Armadillo.
Specie: Animal.
Civil Status: Married.
Height: 1.64 Centimeters.
Occupation: None.
Nationality: Mexican.
Complexion: Skinny.
Age: 91 Years.
Weight: 87 Kilos.
Father: Juan Pablo Salazar.
Mother: Ana Garcia.
Brother: Diego Salazar.
Wife: Elisa Jackson.
Son: Timmy Salazar.
Daughter: Linda Salazar.