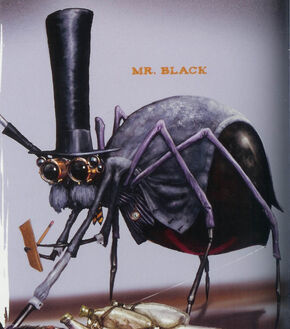 Role in the Film
Mr. Black is (fittingly) a Southern Black Widow spider (note the hourglass on his abdomen) who works on coffins and tombstones on the town of Dirt. He is also seen at the end of the Extended Version of the film rowing a boat out in the water which also appears to have been one of his coffins.
Apperance
Mr. Black has a top hat, and glasses. He also has a mustache and a black (possibly leather) coat.
Information about Mr. Black
Date of Birth- August 5,1985
Origin- Brazil, South America
Complete Name- Tom Black
Gender- Man
Race- Spider
Species- Animal
Civil Status- Married
Height- 1.5 in.
Occupation- Coffin Maker
Language- Unknown (Does not speak)
Nationality- Brazilian
Complexion- Normal
Weight- 12.3 lbs.
Age- 31
Diplomacy- Normal
Father- Pat Black
Mother- Mabel Black
Brother- Vector Black
Sister- Penny Black
Daughter- Candy Black
Wife- Avery Celice