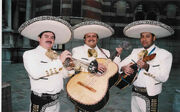 The Mariachi are the traditional Mexican musicians. The Rango film mariachi characters are four burrowing owls.
Their instruments are: violin, accordion, guitar and pipe. In "We Ride!" episode the guitarist plays an electric guitar.
Actually, two of them have names: the violinist is named Lupe and the accordionist is named Señor Flan.