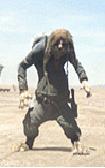 Write the text of your article here!
Kinski is an antelope hunchback jackrabbit who is one of Bad Bill's gang members. He is a parody from Klaus Kinski's character: Wild, from Sergio Leone's For A Few Dollars More. He's wanted for attacking an officer who cracked his head. He's a bit off at times and has a hard time concentrating. He's more psychotic then the other gang members: Stump and Chorizo.
Ad blocker interference detected!
Wikia is a free-to-use site that makes money from advertising. We have a modified experience for viewers using ad blockers

Wikia is not accessible if you've made further modifications. Remove the custom ad blocker rule(s) and the page will load as expected.