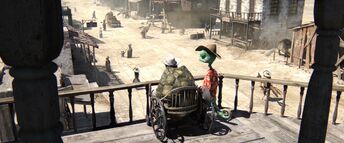 Dirt is a town filled with many animals led by the mayor Tortoise John (the chief adversary). They get ready for water every wednesday at noon. It was founded by Richard Harrison, a Meerkat.
In the extended version of the film, the town is renamed "Mud".
Places at Dirt
- Bank of Dirt
- Gas Can Saloon
- Mayors Office
- Post Office
- Mr. Black's Coffins
- General Store
- Oil Company
- Dirt School 1
- Sport Store
- Cigar Inc.
Founders/Mayors
- Richard Harrison (Meerkat) 1478-1499
- Jose Blinkine (Burrowing Owl) 1500-1545
- Henrietta Farme (Chicken) 1547-1582
- Ronald Roster (Garden Snake) 1685-1743
- Wayne Parks (Cat) 1745-1795
- Rose Davenson (Naked Mole Rat) 1800-1854
- Georgi Bent (Scorpion) 1855-1878
- Tyler Tinzel (Fox) 1880-1934
- Tortise John (Tortise) 1935- 2013
- Rango (Lizard) 2013-?
Ad blocker interference detected!
Wikia is a free-to-use site that makes money from advertising. We have a modified experience for viewers using ad blockers

Wikia is not accessible if you've made further modifications. Remove the custom ad blocker rule(s) and the page will load as expected.