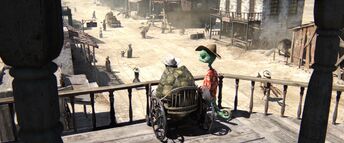 Dirt is a town filled with many animals initially led by the mayor Tortoise John (the chief adversary) but later the evil major being defeated by Rango and killed by Rattlesnake Jake, by that moment the town is led by the heroic and good hearted Rango. They get ready for water every wednesday at noon and now they have it. It was founded by Richard Harrison, a Meerkat.
In the extended version of the film, the town is renamed "Mud".
Places at Dirt
- Bank of Dirt
- Gas Can Saloon
- Mayors Office
- Post Office
- Mr. Black's Coffins
- General Store
- Oil Company
- Dirt School 1
- Sport Store
- Cigar Inc.
Founders/Mayors
- Richard Harrison (Meerkat) 1478-1499
- Jose Blinkine (Burrowing Owl) 1500-1545
- Henrietta Farme (Chicken) 1547-1582
- Ronald Roster (Garden Snake) 1685-1743
- Wayne Parks (Cat) 1745-1795
- Rose Davenson (Naked Mole Rat) 1800-1854
- Georgi Bent (Scorpion) 1855-1878
- Tyler Tinzel (Fox) 1880-1934
- Tortise John (Tortoise) 1935- 2013
- Rango (Lizard) 2013