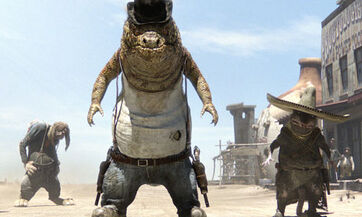 Bad Bill is the tertiary antagonist of Rango, the main antagonist being
Tortoise John
.

Information of Bad Bill.

Date of Birth: August 5 1932.
Origin: Tucson, Arizona, United States.
Complete Name: Bill Carlton Murphy.
Sex: Man.
Race: Lizard.
Specie: Animal.
Civil Status: Divorced.
Height: 1.96 Centimeters.
Occupation: Bandit.
Alias: The Egyptian.
Nationality: Mexican.
Language: English and Spanish.
Complexion: Fat.
Weight: 96 Kilos.
Age: 40 Years.
Diplomacy: Enemy.
Father: Marlon Carlton.
Mother: Angelica Murphy.
Brothers: Kevin Carlton, Philip Carlton and George Carlton.
Sisters: Jennifer Carlton and Laura Carlton.
Wife: Elena Hice.
Sons: Pedro Carlton, William Carlton and Joseph Carlton.
Money: $70.
Bad Bill is seen to be "gruff" in the movie. He's very rude and suprisingly cruel, as he was willing to shoot Rango. Bad Bill is also somewhat cowardly.